Live centers, work holding devices, lathe tool, workholding tool, precision metal grinding and machining tools.
Live Center Work Holding Devices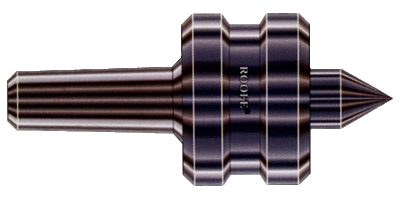 ROOFE LIVE CENTERS ARE AVAILABLE IN A WIDE RANGE OF TYPES AND SIZES TO FIT EVERY CONCEIVABLE INDUSTRIAL REQUIREMENT.THE POPULAR SIZES AND TYPES OF CENTERS ARE STOCKED AND READY FOR IMMEDIATE SHIPMENT. THERE ARE TWO BASIC TYPES DESCRIBED FULLY IN THIS CATALOG. THEY ARE:
ALSO AVAILABLE:
EACH OF THESE TYPES IS AVAILABLE IN THREE GRADES BASED ON TOTAL INDICATED RUNOUT (TIR). THEY ARE:
1. GRADE A- 0.0002" T.I.R.
2. GRADE B- 0.0001" T.I.R.
3. GRADE C- 0.000050" T.I.R.
FURTHER, EACH OF THE ABOVE TYPES - AND ANY OF THEIR THREE GRADES - IS AVAILABLE WITH A REPLACEABLE POINT (RP).AND IN ADDITION, ANY RP IS AVAILABLE IN EITHER OF TWO KINDS OF STEEL AS FOLLOWS:
1. TOOL STEEL - T
2. CARBIDE - C

This site is Designed and Maintained by Directory One,Inc.
Copyright © 2001 [Directory One, Inc.]. All rights reserved.
Revised: January 20, 2005