Medium duty live centers, centering devices, live center, workholding tool, precision metal grinding, lathe tools and milling tool.
LIVE CENTERS, MEDIUM DUTY
ROOFE MEDIUM DUTY LIVE CENTERS - AS INDICATED BY THE NAME - ARE MADE FOR LATHE, MILLING, AND GRINDING OPERATIONS THAT FALL BELOW THE EXTREMES OF HEAVY DUTY. THESE LONG LIFE, QUALITY TOOLS HAVE OFTEN BEEN IN SERVICE OVER THIRTY YEARS WITH A MINIMUM OF SERVICE REQUIRED. MATCHED PAIRS OF ANGULAR CONTACT BEARINGS TOGETHER WITH HEAVY DUTY BEARINGS FOR SPINDLE SHAFT ENDS MAKE THIS KIND OF SERVICE NORMAL. LOAD CAPACITIES FROM 2,600 TO 16,000 LBS. ARE OFFERED IN THIS TYPE CENTER.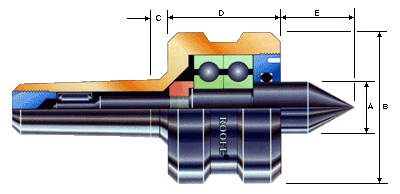 NOMINAL
SIZE
MORSE
TAPER
LOAD
CAPACITY
(LBS)
MEASUREMENTS (INCHES)
A
B
C
D
E
MD-3
3M
2,600
7/8
2-3/16
5/16
1-3/4
1-1/8
MD-4
4M
6,000
1-1/16
2-11/16
3/8
2
1-1/4
MD-5
5M
12,000
1-1/2
3-9/16
3/8
2-1/2
1-5/8
MD-6
6M
16,000
2-1/64
4-5/8
1/2
2-29/32
2-1/8

PLEASE SPECIFY: GRADE A, B, OR C. - EXAMPLE (MD-3A)
REPLACEABLE POINT. - EXAMPLE (MD-3A-RP)
TYPE OF STEEL FOR RP - T OR C
IF TRACER POINT DESIRED - TP

IF OTHER THAN MORSE TAPER REQUIRED,PLEASE INDICATE.

LOAD CAPACITY: (THRUST = RADIAL) BASED ON L-1O LIFE FACTOR OF
100 RPM'S FOR 3,800 HOURS.
.


Thissite is Designed and Maintained by Directory One,Inc.
Copyright © 2001 [Directory One, Inc.]. All rights reserved.
Revised: January 20, 2005