Master live centers, work holding tool, centering devices, precision metal grinding, lathe tool and milling tools.
MASTER LIVE CENTERS
Work Holding Tool With Adapter

CERTAIN PRODUCTS MAKE A WIDE BULL NOSE OD RANGE, A MUST IN LIVE CENTER REQUIREMENTS. ROOFE OFFERS A MASTER CENTER WITH ADAPTERS TO THE CUSTOMER'S SPECIFICATIONS TO COVER THESE REQUIREMENTS.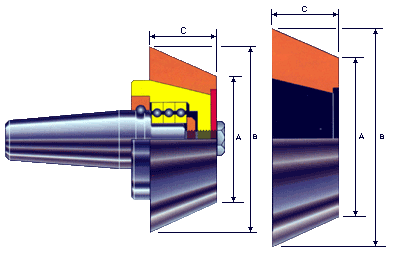 MASTER ADAPTER CENTER
ADAPTER #1
OD RANGE
ADAPTER #2
OD RANGE
MODEL #
MORSE
TAPER
LOAD
CAPACITY
(LBS)
MAC-3
3
4000
SPECIFY
SPECIFY
MAC-4
4
12000
SPECIFY
SPECIFY
MAC-5
5
20000
SPECIFY
SPECIFY
MAC-6
6
30000
SPECIFY
SPECIFY
PLEASE SPECIFY: GRADE A, B, OR C. - EXAMPLE (MAC-5A)
IF OTHER THAN MORSE TAPER REQUIRED,PLEASE INDICATE.
LOAD CAPACITY: (THRUST = RADIAL) BASED ON L-10 LIFE FACTOR OF
100 RPM'S FOR 3,800 HOURS.


Thissite is Designed and Maintained by Directory One,Inc.
Copyright © 2001 [Directory One, Inc.]. All rights reserved.
Revised: January 20, 2005