Live pipe centers, milling tools, turning tool, work holding device, precision metal grinding and grinding tool.
Manufacturing Live Pipe Centers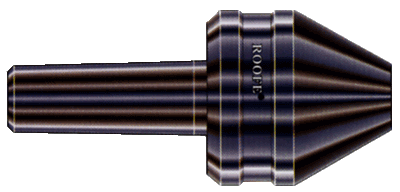 ROOFE LIVE PIPE CENTERS SOLVE THE PROBLEMS OF TURNING, GRINDING, AND MILLING LARGE BORE PRODUCTS. THREE, FOUR, AND FIVE QUALITY, HIGH LOAD BEARINGS GIVE ROOFE PIPE CENTERS THE LONGEST LIFE WITH THE HIGHEST LOAD RATINGS FOR EXTREMELY ACCURATE MACHINING OPERATION SEVEN WHEN HIGH PRODUCTION SCHEDULES KEEP THESE TOOLS RUNNING HOUR AFTER HOUR AND DAY AFTER DAY. ROOFE PIPE CENTERS ARE AVAILABLE IN TWO BASIC TYPES:
EACH OF THESE TYPES ARE AVAILABLE IN THREE GRADES BASED ON TOTAL INDICATED RUNOUT (TIR). THEY ARE:
1. GRADE A - 0.0002" T.I.R.
2. GRADE B - 0.0001" T.I.R.
3. GRADE C - 0.000050" T.I.R.
FULL 60 DEGREE POINTS POINTS FURNISHEDIF NEEDED.



Thissite is Designed and Maintained by Directory One,Inc.
Copyright © 2001 [Directory One, Inc.]. All rights reserved.
Revised: January 20, 2005